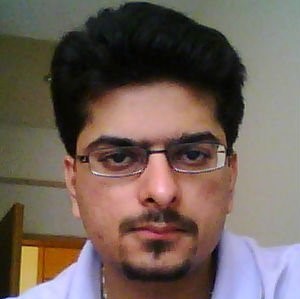 MBBS (Mumbai),
DNB OPHTHALMOLOGY,
FELLOWSHIP IN – PEDIATRIC OPHTHALMOLOGY ( ARAVIND )
Name :
Rushabh A Shah
Date of birth :
14th Aug 1982
Age :
35 yrs
Marital status:
Married
Residence :
4, Jay mahal, A rd. churchgate,Mumbai 400020
Clinic :
THE EYE CLINIC
5, Kailas darshan, 2nd floor,kennedy
bridge,near nana chowk, above idbi bank,opp
jyoti studios Mumbai 400007
Phone :
9821027489 , 022 22842172
Email :
drrushabh@gmail.com
Fellowship :
Completed fellowship in Aravind Eye Hospitals, Coimbatore, India, in pediatric ophthalmology and strabismus department. Observorship and training:
Observorship and training:
● Boston children's hospital - Harvard school of medicine with Dr David hunter
● Wilmer eye institute- Johns Hopkins university with Dr guyton
● Children's hospital of Pittsburgh - upmc with Dr Ken nischal
● Honorary Consultant at B J Wadia hospital , Conwest Jain clinic., Saifee Hospital and St Elizabeth Hospital.
PROFESSIONAL QUALIFICATIONS :
MBBS :
D.Y. PATIL, MED. COLLEGE,
Navi mumbai, Maharashtra university
of health sciences (2000 - 2004)
DNB (OPHTHALMOLOGY) :
Aravind Eye Hospital, Coimbatore. (2007-2008)
MEDICAL OFFICER :
Sudarshan nethralaya, Amreli,
gujarat hospital managed by aravind
eye care system (2012-2013)
FELLOWSHIP :
Fellow-Pediatric Ophthalmology
Aravind eye hospital (2013-2014)
RETINOPATHY OF PREMATURITY :
(1 month training)
AUG 2014
6.MS :
University of seychelles
APPOINTMENTS AND CLINICAL EXPERIENCE :
POSITION
SPECIALITY
HOSPITAL
DURATION
Internship Rotation – urban and rural
Medicine & allied Surgery and allied Obs/Gynaec( incl. paeds , casualty)
Rajawadi hospital,Ghatkopar,Mumbai
(Bombay municipal corporation)
Jan 05 to Jan 06
House surgeon
General surgery
Bhagwati hospital,Mumbai
Jul 06 to Jan 07
Resident Ophthalmology
Ophthalmology
Aravimd eye hospital,Coimbatore
Feb 07 to Nov 2011
Medical Officer
Ophthalmology
Sudarshan nethralaya Amreli, Gujarat
(Trust hospital run by Sun Pharma group of companies, managed by Aravind Eye Care System)
Oct 12 to May 13
Fellow
Pediatric Ophthalmology
Aravind Eye Hospital,Coimbatore
Jun 13 to sep 14
Junior consultant
pediatric and general ophthalmology
Bombay city eye hospital and
research institute
Dec 2014 to Jun 2015
Observorship
Pediatric ophthalmology and stabismus
Boston children's hospital, wilmer eye
institute
Jul 2015 to sep 2015
Dissertation on comparison of macular thickness pre and post phacoemulsification in diabetics without retinopathy and healthy individuals with OCT .
Study on long term outcomes in secondary iols/iris fixated iols in pediatric age group and adults.
Study on role of avastin in retinopathy of prematurity.
On going study on incidence of refractive errors in preterm children.Aicardi syndrome case presentation at Grand Rounds
Newer insights in amblyopia therapy- binocular stimulation and transcranial magnetic stimulation(article published in JAAPOS) – Presentation in Pediatric Forum ,Coimbatore.
EXPERIENCE IN OPHTHALMOLOGY :
Performed a good no. of extra capsular cataract  surgeries ( ecce), a high volume of small incision cataract surgeries (sics )and phacoemulsifications.
Also performed a  no of speciality procedures and surgeries:
Pediatric :
Management of Pediatric cataracts – congenital  and acquired
Squints  surgeries :
horizontal and vertical squints
Infantile esotropia
Refractive and non refractive accommodative esotropias.
Exotopias – congenital and acquired.
Intermittent exotropias
Dissociated vertical deviations
A and V patterns
Muscle transposition surgeries
Non paralytic squint corrections
Probing
Membranectomies
Secondary iol implantations
Optical iridectomies
Nystagmus evaluation and surgery
Evaluation and management of syndromes : Duannes retraction syndrome, Browns, Monooular evevation deficiency.
Orthoptics and Refraction
Muscle balance and synoptophore exercises.
School sreening camps and public lectures.
Active participation in journal clubs and presented 2 articles
Incidence of amblyopia in chronic dacryocystitis
Amblyopia therapy – newer insights.
Took lectures and case presentations within the department, for post graduates as well teleconferencing between all the pediatric departments of aravind eye hospital.
Glaucoma
Laser pi
Trabeculectomies
Pachymetry 
Fundus photograph
Fields- Humphrey, octopus and Fdt
Retina:
Octs , ffas
Laser pan retinal photocoagulation – slit lamp and indirect ophthalmoscopy laser Usg b scan
Ubm
Orbit:
Dcts
Dcr
I and C
Abscess drainage
Cornea :
Corneal tear repairs
Pterygiums – with autografts and fibrin glue
As a resident in the Aravind eye hospital , exposed to a huge volume of cases in opd on a daily basis. Went on a good no of outreach camps to remote villages of kerala and tamil nadu, south india.
Being a tertiary eye care centre, exposed to  referral cases from all over south india.
As a resident , was rotated in all the specialities on a monthly basis including pediatrics, cornea, glaucoma, retina, orbit, uvea and neuroophthalmology.
Had opportuinity to work in peripheral centres – Tirupur,Salem , Udmalpet.
Large volume of surgeries on a daily basis including cataracts and all the specialities.
Worked as medical officer in Sudarshan Nethralaya, Amreli (small town) in Gujarat. A hospital managed by the aravind eye care system.
Completed fellowship in pediatric ophthalmology in  aravind eye hospital, Coimbatore.
Underwent specialized training in Retinopathy of Prematurity​ and Ocular
Oncology  –
Screening and treating. 
Screening of preterm babies who are at high risk of ROP , regular visits for screening to neonatal icus and maternity wards to various hospitals  and referral of cases who require treatment to the base hospital 
Attended camps by bhansali trust – largest eye camps in India in bodh gaya in Bihar .
CONFERENCES
ATTENDED FOLLOWING :
ALL INDIA OPHTHALMOLOGY CONFERENCE  –  BANGALORE 2007
BOMBAY OPHTHALMOLOGICAL SOCIETY – BOS 2009, 2011 AND 2012
TAMIL NADU OPHTHALMOLGY ASSOCIATION – TNOA 2009, 2014
COIMBATORE OPHTHALMOLOGICAL SOCIETY : FROM 2007 TO 2014
ASSOCIATE MEMBER
PART OF ORGANISING COMMITTEE OF TNOA-2014
PEDIATRIC OPHTHALMOLOGIC FORUMS
PROFESSIONAL MEMBERSHIPS AND REGISTRATIONS
MAHARASHTRA MEDICAL COUNCIL ,MUMBAI-REG NO. 2006/04/2155
ALL INDIA OPHTHALMOLOGICAL SOCIETY.
DELHI OPHTHALMOLOGICAL SOCIETY.
BOMBAY OPHTHALMOLOGICAL SOCIETY.
COIMBATORE OPHTHALMOLOGICAL SOCIETY.
DR. KALPANA NARENDRAN ( PEDIATRIC OPHTHALMOLOGIST)
SENIOR MEDICAL OFFICER
ARAVIND EYE HOSPITAL,COIMBATORE
EMAIL : kalpana@aravind.org
DR.VATSAL PAREKH (RETINA CONSULTANT)
DRISHTI EYE AND RETINA CENTRE
OPERA HOUSE, MUMBAI
EMAIL : vatsal@drushti.com
MR. UPEN SHANGVI TRUSTEE SUDARSHAN NETHRALAYA AMRELI.
EMAIL : stellartoys@gmail.com
Dr. PARAG SHAH
ROP AND RETINA CONSULTANT
ARAVIND EYE HOSPITAL, COIMBATORE
EMAIL: parag@cbe.aravind.org