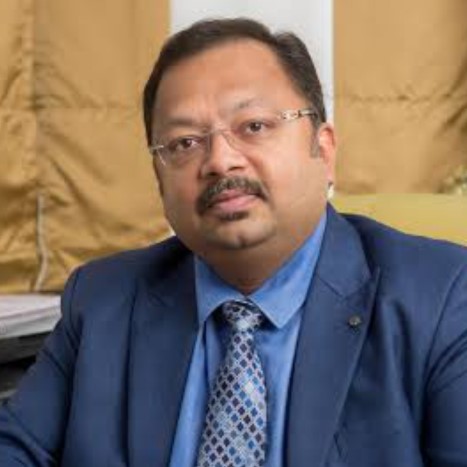 M.S. (Ophth.)
Medical Director & Chief Consultant
DIVYADRASHTI EYE CARE CENTRE ®
Qualifications & Trainings :
Passed M. S. (OPHTHALMOLOGY) from Saurashtra University in April 1995 at 1st

Thesis preparation on "YAG LASERS' in Ophthalmology.
Professional Affiliations :
Presently the Chief Consultant & Medical Director of A Comprehensive Eye Care Centre in Borivali, named "DIVYADRASHTI EYE CARE CENTRE®".

This concept of providing all Ophthalmological sub-specialities for diagnosis & treatment under one roof was started by Nimesh P. Mehta at the above mentioned Centre on Jan 28th '2001. "DIVYADRASHTI" is housing at a single Centre all modern & technologically advanced facilities for diagnosis, treatment and care of eye patients.

The Centre provides treatment facilities from Cataract, Glaucoma, Squint, Retina, Oculoplastics, Pediatric Ophthalmology, Cornea, Contact Lenses, NeuroOphthalmology, Retinal Lasers and Refractive Surgery.

Each sub-speciality has the most advanced and sophisticated equipments for accurate diagnosis and excellent treatment. All the above are taken care of by a smart team of Consultants & experienced nursing staff. Each Specialty is taken care of by eminent Ophthalmologists trained in that particular field. An efficient management group along with paramedics, Optometrists, nurses, computer operators and a friendly reception staff supports them.

Within 2 years of starting this centre, it added one more feather to its cap. DIVYADRASHTI EYE CARE CENTRE® has been found to be conforming to the requirements as per International standards and have been given the ISO 9001: 2000 Certification – one amongst the first Eye Hospital in the city of Mumbai. The Certificate is a UKAS Accredited, issued by U.K governed BVQI.
"DIVYADRASHTI EYE CARE CENTRE"
B-12/13/15/19, Laxmi Niwas, Pai Nagar, Near Gokul Hotel, Mandpeshwar Road, Borivali (West), Mumbai-400092.
Tel No. / Tele-Fax : 022- 2895 5555 / 2890 4788 / 28956841.
Website: https://divyadrashtieyecare.com/www.divyadrashtieyecare.com
Email: drnimesh@divyadrashtieyecare.com
LIC of India

Skyline Aviation Club

Klick Media

N.G.C
Asthika samaj camp on 27/05/2001

Kapadwanj Dasha Porwad Camp on 10/02/2002

Saraswatiben Harde's Camp on 13/10/2002

Shivsena Eye Camp on 15/12/2002 & on 23/4/2006

Rokadia Lane Welfare Association on 22/02/04, 13/03/05, 12/03/06.

Free Cataract Operative Camp of Manav Seva Trust Vruddhashram on 19/11/2005.

Shree Sorathvisa Shrimali Mandal Camp on 18/12/2005

Shreeji Medical Relief Trust Camp on 12/02/2006

Rashtravadi Yuvak Congress Free Eye Camp on 23/12/2007

Shree Sambhavnath Foundation Free Eye Camp on 6/1/2008.

E.International School (Borivali-W) camp for children on 12/9/2008

"Look & Learn Jain Gyandham" Camp at Borivali (W) on 10/4/2010

E.International School (Borivali-W) camp for school-children on 29/2/2012 & 01/3/2012.

Shri Sorath Visashrimali Jain Senior Citizen Mandal Camp on 13/5/12.

Yogi Gurukrupa Society, Yoginagar, Borivali (W), Camp ON 19/9/12.

Jain Jagruti Centre, Borivali Eye-Camp on 10/2/2013.

Chartered Accountants Associations Camp at Divyadrashti on 30/6/2013

MaaBharti Gujarati Foundation Camp at Dahisar-E, on 11/5/14.
Clinical Research work done on a molecule called "Forskolin" (Anti- glaucoma molecule). The research work was coordinated with Samilabs India Pvt. Ltd.
Social Commitments / Member
Borivali Medical Brotherhood (BMB)- (Office-Bearer since 2001, Vice-President 2012-2019, President 2019-2021)

All India Ophthalmological Association (A.I.O.S)

Maharashtra Ophthalmic Society (M.O.S)

Jain Jagruti Centre- Borivali ( Founder Vice-President)

Appointed as "Special Executive Officer (S.E.O)" by Govt. of Maharashtra (from July' 2008).

Past Students Association-BES ( President- 2012-2015, now Mentor)

Patron- JITO (Jain International Trade Organisation)

Patron Member- Borivali Education Society

Managing Council Member- BSK (Borivali Sanskrutik Kendra)

Bombay Ophthalmic Association (B.O.A) L.M since 1995, Managing Committee member (2012-2013)

Vice-President of BJP's Borivli Business Cell
Conferences / Courses / Lectures :
Actively involved in conducting Phaco training courses for fellow-Ophthalmologists – at Bombay City Eye Institute, held every quarterly.

Organised Public Awareness Lectures on Eye Care at Borivali in 1998 and at Mumbai in 1997-98.

All annual BOA (Bombay Ophthalmological Association) Conferences.

SEAGIG Conference at Chennai, India in Nov'2006

Borivali Medical Brotherhood (BMB) CME Lecture Series on 6/1/07 & 20/1/07.

S.C.R.S (American Society of Cataract & Refractive Surgery) Conference at San Diego, CA, USA in April 2007.

Lecture on Anatomy & Physiology of Eye for 8th/9th students of Rustomjee Cambridge International School, Dahisar, on 5/3/2008

Spoke on "Tips & Advances in Phacosurgery" in Allergan Symposiun for Ophthalmologist on 30/3/2008.

IntraOcular Implant & Refractive Society, India Conference at Chennai on 12-13th July'2008.

Gave lecture on "JITO" at Jain Doctors Federation (JDF) Conference at Sangli on 5/4/2009

Alcon-ACT Meet at ChiangMai, Thailand in Feb'2010.

"Ocular Trauma Society of India" Meet at Bandra, Mumbai in Jan'2011

AIOS meet at Ahmedabad in Feb'2011.

AIOS Conference at Cochin in Feb'2012.

Glaucoma Society Of India (GSI) Conference at Coimbatore in Oct'2012

Motivational Lecture on "Eye-Donation" for Chartered Accountants Association on 29/6/2013
"Organ Donation Awareness" Drive:
Organized a 9- day cultural Navratri programme – "Dhoom Machale-2018 & 2019" at Raghuleela Mall, Poinsur, Kandivali West, for creating an Organ Donation awareness in the society. 2800 donor pledges were registered & the mission is still on.
"To see light, we need sight, At "DIVYADRASHTI" we make it right."